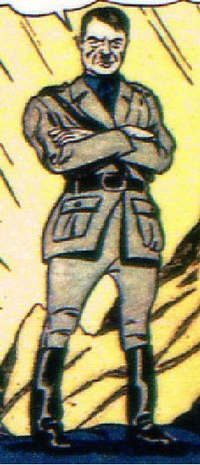 Adolf Hitler was a major antagonist in Marvel comics, especially in stories concerning WWII. Like in real llife, he was the leader of the Nazi Party, Chancellor turned Dictator of Germany, and led Germany into the second World War. During the conflict, he sought to eliminate all he viewed as racially inferior or "impure" in death camps, an act that became known as the Holocaust. He also took in Johan Schmidt as a protege, turning him into the Red Skull. Throughout the war, Hitler dabbled in things such as occult mysticism and super-science through the organization "Hydra" (which Red Skull led), in his never-ending drive to destroy the Allies and conquer the world.
But, by 1945, the war was in the Allies' hands. Hitler retreated to a private bunker come the bombing of Berlin, where it is widely believed he committed suicide (as his real life counterpart did). However, in reality, he was accidentally incinerated by the original Human Torch (though a later story would have Bucky Barnes as the man who killed him).
Adolf Hitler is survived however by Hate-Monger, who is Adolf Hitler's clone turned semi-cosmic entity. Red Skull later attempted to acquire a suitcase Hitler once had that he believed was of value, but it turned out to contain nothing of worth to the Red Skull; just things like some art pieces from Hitler's days as an artist.