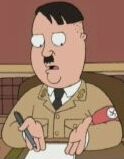 Adolf Hitler was the dictator of Germany in Family Guy.
He appears in a cutaway gag in which Death tries to persuade Peter to be his substitute by reminding him how miserable the world would be if people like Hitler was still alive. In the cutaway gag, he has his own talk show, in which he asks if he can see Christian Slader's butt.
He rose from being the Chancellor of Germany to having absolute control of the country. He was the main antagonist in the "Road to Germany" when Brian and Stewie travelled to the past to get Mort back to their timeline. They had to go to Berlin to get uranium to power their time machine. Stewie disguised himself as Adolf Hitler which was a successful. But they confronted the real Adolf Hitler who ordered his men to kill them. Stewie manages to get the time machine and got him, Brian, and Mort back to the present.