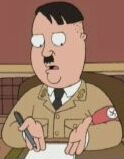 Adolf Hitler was the dictator of Germany in Family Guy. He rose from being the Chancellor of Germany to having absolute control of the country. He was the main antagonist in the "Road to Germany" when Brian and Stewie travelled to the past to get Mort back to their timeline. They had to go to Berlin to get uranium to power their time machine.
Stewie disguised himself as Adolf Hitler which was a successful. But they confronted the real Adolf Hitler who ordered his men to kill them. Stewie manages to get the time machine and got him, Brian, and Mort back to the present.
Ad blocker interference detected!
Wikia is a free-to-use site that makes money from advertising. We have a modified experience for viewers using ad blockers

Wikia is not accessible if you've made further modifications. Remove the custom ad blocker rule(s) and the page will load as expected.