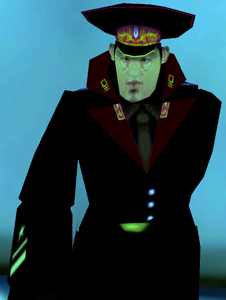 Admiral Yarofev is a character from Tomb Raider Chronicles.
Russian Admiral Yarofev was one of the main enemies in the second story. He was the commander of the nuclear submarine during the submarine levels.
He served his country for years, and was unhappy with the decline of Russia after the fall of the Soviet Union. To pay and feed his crew, he took a job from a Russian mafia boss by the name of Sergei Mikhailov- who wanted to find the Spear of Destiny in order to destroy his competition.
In the last level of the Russian levels, he became Lara's friend and helped her escape from the submarine. When Lara finds him, he is injured from an explosion that crippled the submarine and caused it to flood. First telling Lara how to prepare the escape pod for launch, Yarofev then offers to remain behind on the doomed submarine to launch the escape pod so that Lara might live. Lara reluctantly agrees. Yarofev then tells Lara to tell the world of the heroic actions of the crew of the doomed submarine. He then dies with his ship, as the spear causes a massive explosion that tears the submarine apart.
Ad blocker interference detected!
Wikia is a free-to-use site that makes money from advertising. We have a modified experience for viewers using ad blockers

Wikia is not accessible if you've made further modifications. Remove the custom ad blocker rule(s) and the page will load as expected.