Adiposo (a.k.a. "Fat Man," d. 3978) was a mutant who lived beneath the ruins of New York City in the latter half of the 40th century. His actual name has never been revealed. He was a high-ranking leader of the mutant community, and possessed the ability to project his thoughts directly into the minds of others. Further, the Fat Man could pull abstract mental impressions from a target's mind and visually project them. His projections were always filtered through a haze of red light, oftentimes overlapping psychic impressions created by his fellow mutants. Although he was more than capable of physically speaking, his evolved persona preferred communication through telepathy.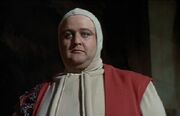 Ad blocker interference detected!
Wikia is a free-to-use site that makes money from advertising. We have a modified experience for viewers using ad blockers

Wikia is not accessible if you've made further modifications. Remove the custom ad blocker rule(s) and the page will load as expected.