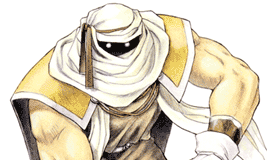 Abyss is a minor villain from Ys5. He one of Rizze's lieutenants, along with Baruk and Karion.
He first appears when Rizze calls him and the other lieutenants to subjugate Adol, Abyss being the one who retrieves the crystals in Adol's possession for breaking the seal upon the lost city of Kefin. He appears again in Kefin, when Adol infiltrates the secret facility there in search of Stein, the leader of the resistance against Rizze. Abyss stops Adol and prepares to confront him, but Stein sneaks behind him and slices him in half.
Ad blocker interference detected!
Wikia is a free-to-use site that makes money from advertising. We have a modified experience for viewers using ad blockers

Wikia is not accessible if you've made further modifications. Remove the custom ad blocker rule(s) and the page will load as expected.