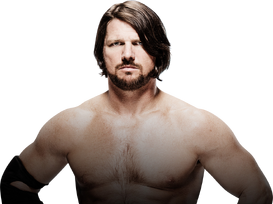 | | | |
| --- | --- | --- |
| " | I am the face who runs the place and the champ who runs the camp! | " |
| | ~ AJ Styles | |
| | | |
| --- | --- | --- |
| " | You don't get a trophy for participation! You get a trophy by BEING A WINNER! | " |
| | ~ AJ Styles bragging about how he beat John Cena | |
| | | |
| --- | --- | --- |
| " | Guys like you bury guys like me! | " |
| | ~ AJ Styles to John Cena | |
AJ Styles
is a professional wrestler who works for WWE. he used to compete in TNA, NJPW, ROH, and all around the world.
Debut
AJ Styles made his debut at the 2016 Royal Rumble as the 3rd entrant. he made his debut as a face and confronted Roman Reigns. AJ Styles then got eliminated by Kevin Owens. on RAW the night after the Royal Rumble, AJ Styles would face a fellow fan favorite in Chris Jericho (who wasn't pleased about all the hype surrounding AJ Styles). the match was won by AJ Styles. Styles would then earn his first PPV victory at Fastlane against Chris Jericho . after their match at Fastlane, AJ Styles would earn Jericho's respect and they formed a tag team known as "Y2AJ". their first match as a tag team was against the Social Outcasts. the match was won by Y2AJ. later on that week on SmackDown, Y2AJ would team up with Mark Henry to take on The New Day. Y2AJ scored another victory. two weeks later on Raw, Y2AJ would face The New Day for the tag team titles and lost. after the match, Jericho hit the codebreaker on AJ Styles and turned heel. Jericho then explained why he betrayed AJ Styles was because that AJ Styles had more recognition than Jericho himself. after Jericho's match with Neville, Styles would run into the ring and hit Chris Jericho with the phenomenal forearm. a week later on RAW, Jericho would interrupt AJ Styles' match against Kevin Owens while chanting "AJ Styles" in spite of Styles. later that night, Styles would return the favor during Jericho's match against Fandango while chanting "Y2Jackass". Styles once again interrupted a match that Jericho competed in the following week. during Jericho's match with Zack Ryder, AJ Styles would watch on the commentary table and chant "Y2Jackass" on Chris Jericho. due to the distractions, Jericho lost his match and then accepted AJ Styles' challenge at WrestleMania to which Jericho won
Feud with Roman Reigns/Debut of the Club
a night after WrestleMania on the April 4th edition of RAW, AJ Styles won a Fatal 4 Way match against Chris Jericho, Kevin Owens & Cesaro to determine the No 1 Contender for Roman Reigns' WWE World Heavyweight Championship. a week later, AJ Styles' friends from NJPW known as Karl Anderson & Luke Gallows would appear in the WWE and attack The Usos (Roman Reigns' cousins). the following week after a confrontation between AJ Styles & Roman Reigns on the April 18th edition of RAW, Anderson & Gallows would attack Roman Reigns. after the attack, Reigns would accuse AJ Styles of telling Anderson & Gallows to attack him. Styles would deny the accusations. after a match between Roman Reigns & Alberto Del Rio, Roman Reigns & The Usos would continuously get into brutal fights with AJ Styles, Anderson & Gallow (AKA The Club) over the next couple of weeks. after the battle between Styles & Reigns at Extreme Rules, Styles would inform The Club that they have to split up to which Anderson & Gallows didn't take lightly and left the ring.
Heel Turn
A week after Styles parted ways with The Club, he confronted John Cena. Then The Club arrived and taunted both Styles & Cena. Styles & Cena were ready to fight The Club, but then AJ Styles attacked John Cena and reunited with The Club, thus turning heel in the process. later on that week in the June 3rd edition of SmackDown, AJ Styles & The Club would confront The New Day (who have turned face months ago). AJ Styles would challenge a member of the New Day to a match, to which Kofi Kingston accepted. The match was won by AJ Styles. On the June 6th edition of RAW, AJ Styles would explain his attack on John Cena, claiming that guys like John Cena bury talented wrestlers, or talented up and comers.